"Mini" WLAN socket:
the compact expert
The Hama Smart Home products allow you to easily retrofit your electrical devices with WLAN without the need for building work. A particularly easy way to make your home smart is with a WLAN socket. Conveniently control your floor lamp, TV or fairy lights at set times by app and using your voice; in addition, find out which of your devices are power guzzlers. With the 'Mini' WLAN socket with integrated power consumption measurement, saving power is a top priority.
Smart socket with consumption measurement and push notification
Your old refrigerator rattles, your washing machine is likewise not the most up-to-date model. But how much power do these old appliances actually use? Is it worthwhile investing in new, energy-saving models? With the WiFi socket, you not only have the convenience of app and voice control, but can also measure your power consumption. You can see from the consumption displayed, which of your appliances are particularly power-guzzling or energy-saving. This makes it easier for you to decide whether to use some appliances less; or to calculate whether it is in fact worthwhile replacing the old refrigerator with an elegant, new model. The highlight: The consumption measurement also tells you whether appliances have finished their cycle. For example, if the washing machine no longer uses any power in a particular time period, it means that the wash cycle has ended. The benefit to you: You don't have to run down to the basement three times to check whether your washing is ready.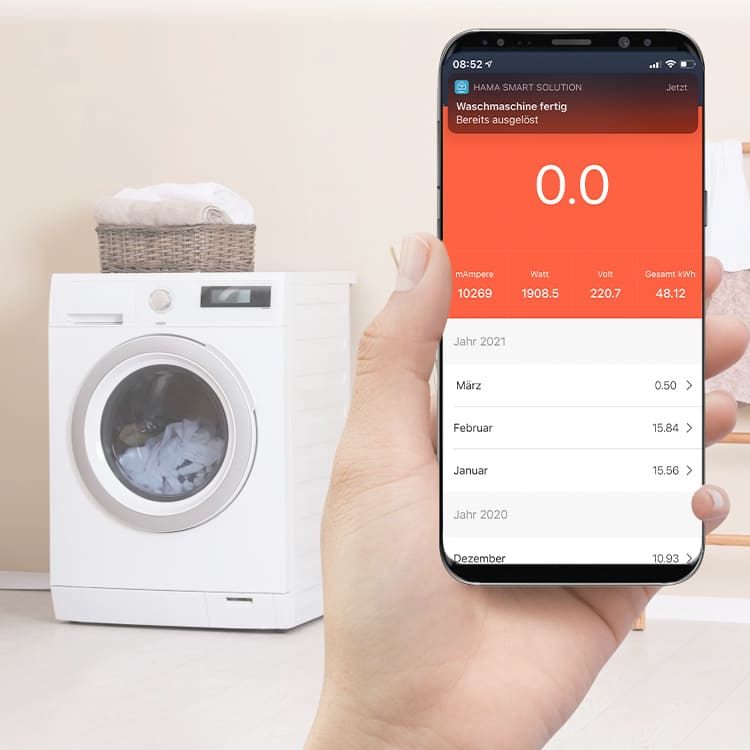 Convenient control with an intelligent socket
With the Hama Smart Home app, you always have full control of the devices connected to the smart home socket. You can switch your devices on and off at set times – that is, use the socket as a timer; for example, in summer, have the fan in the bedroom running from 10 p.m to 12 a.m precisely. Thanks to the app, you can also control your devices remotely; this is practical if you have forgotten to switch off the light, or if you want to immerse the living room in atmospheric lighting when you're still on your way home from work.
You control the connected devices by giving commands to Amazon Alexa or the Google Assistant. This means you can switch on the TV or light from the comfort of your sofa.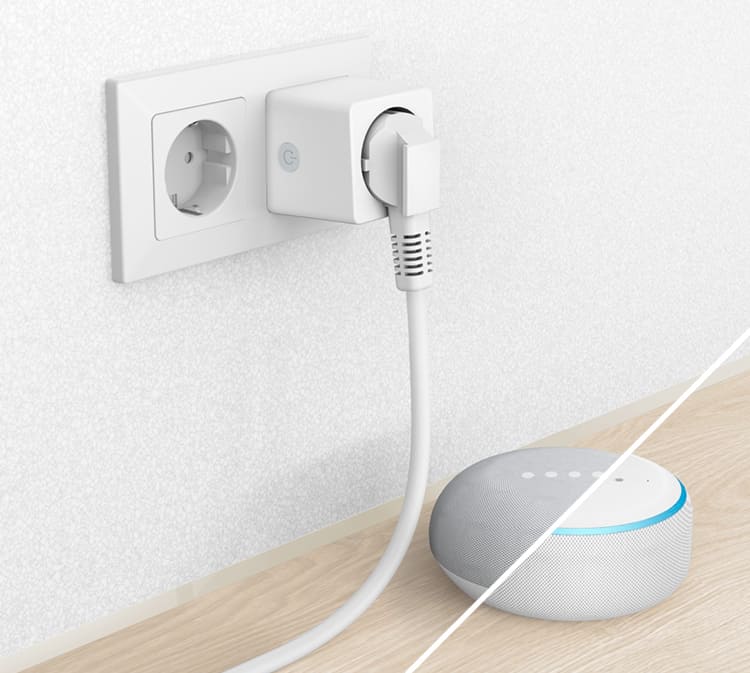 Using the WLAN socket as a timer
By creating schedules in the Hama Smart Solution app, you can tailor your smart home to your daily rhythm. This saves time and, of course, a lot of energy, because your devices only run when they are really needed. The standby mode can be easily avoided and power can be saved: When the WLAN socket is off, so too is the device – completely off. Schedules created using the Hama Smart Home app are also beneficial when you're on holiday. By frequently switching on a lamp, or the TV, you can make it look like you're at home – and deter burglars.
Your daily routine in your smart home with the WLAN socket might look like this:
06:00 – The coffee machine is supplied with power and begins to heat up.
06:30 – The power supply to the coffee machine is interrupted.
17:00 – The TV is again supplied with power.
21:00 – The lights on the balcony go on.
22:15 – The power supply to the TV is switched off.
22:30 – The balcony lights go off.
22:30 - 23:00 – The fan blows cool air to aid falling asleep.
The Design:
smart and simple
With its discreet design, the smart Mini socket blends inconspicuously into all living spaces. Its compact form makes it particularly suitable for use in narrow spaces or places that are difficult to access. Adjoining switches or sockets on the wall are not concealed.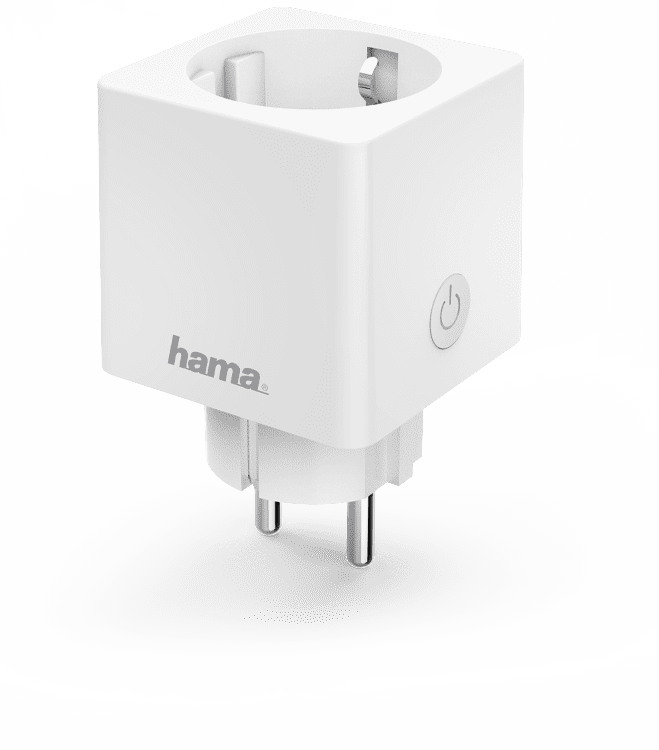 The easy way to a WiFi-controlled home
simple installation with no gateway
The WLAN-enabled socket establishes a direct connection to the router without an additional hub. No building measures or additional devices are required, saving you time and money. Within just a few minutes, you have integrated your lighting or electronic devices into the WLAN, and can immerse yourself in your individual programming via app and voice control.

Good news:
All Hama Smart Home products can now be controlled not only with Alexa and the Google Assistant, but also with the voice assistant Siri.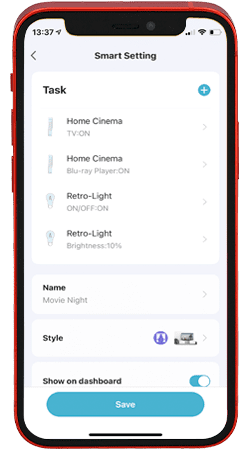 1

Create a scene

The Siri Shortcuts function enables the control of smart scenes that first have to be created. For this purpose, create a scene in the usual way that you want to activate with Siri. The existing process remains unchanged.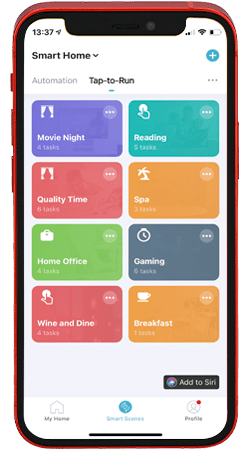 2

Open Siri Shortcuts

In the app The overview page displays all set-up scenes. You will find the new 'Siri Shortcut' button in the lower right-hand area. Tap the button.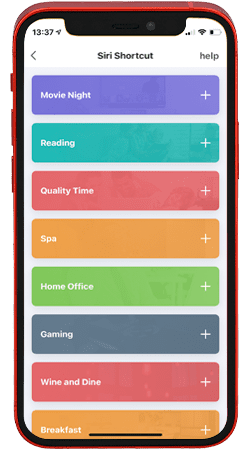 3

Select the scene you want

A page opens, on which you can add your scenes to a Siri Shortcut. To do so, press the plus sign next to the relevant scene.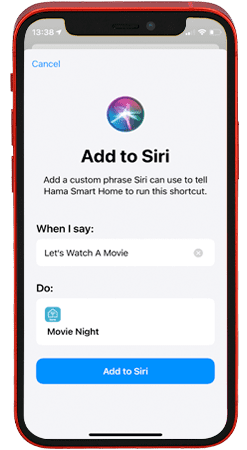 4

Create a shortcut

You can now create the shortcut. To do so, enter the wording for the command that is to be used to start this scene. If, for example, you have created a scene for a film night and would like to add it to the Siri Shortcuts, a suitable command would be 'Start the film night'. Once you have tapped 'Add to Siri', you can then simply say to Siri, 'Hey Siri, start the film night'. Siri will then run the 'Film night' scene from the Hama Smart Home app.

Additional tip: To control individual devices with Siri, simply create short scenes that are responsible only for switching on, switching off or switching over the individual device, and add them to Siri. 'Fan on', 'Light off', 'Hey Siri, see to the light' – there are no limits to your imagination!
Be creative with the Hama Smart Home app
Have you acquired a taste for smart home technology, and WLAN control of your lighting and fan is no longer enough for you? With the Hama Smart Home app, you can link all smart home products from Hama with one another by creating scenes and automations. In addition to exceptional effects, simple everyday manual actions can be automated with smart home systems.
Scenes and automations make your everyday life so much more pleasant and convenient. Try it out for yourself: There are no limits to your imagination.
Scenarios
Make life easier
'Cinema' scenario: If you want to enjoy the latest blockbusters in the right ambience and with delicious popcorn, you have to go to the cinema, right? This has not been the case for some time now. With Netflix and other streaming services, you can watch almost any film nowadays. To get the right cinema feeling, you set up a scene with the smart socket and our smart lamps:
When the TV is switched on from 7 p.m., the main lighting is to be switched off and the connected decorative lighting switched on. A perfect cinema experience for every home – and just one click is required.
Automations
In combination with other products
The outdoor temperature is 35°C, and even when you come home from work in the evening, it's like a sauna. With an automation system, you can turn your home into a cooling zone. Simply connect a fan or an air conditioning system to our WLAN socket. Then, in the app, set the device to switch on when the outdoor temperature rises above 28°C.
Increased protection against contact:
safety for children and animals
The product incorporates increased protection against unintentional contact – for example, if children poke the socket with a screwdriver or knitting needle, or animals with their claws. This prevents children and animals coming into contact with live components.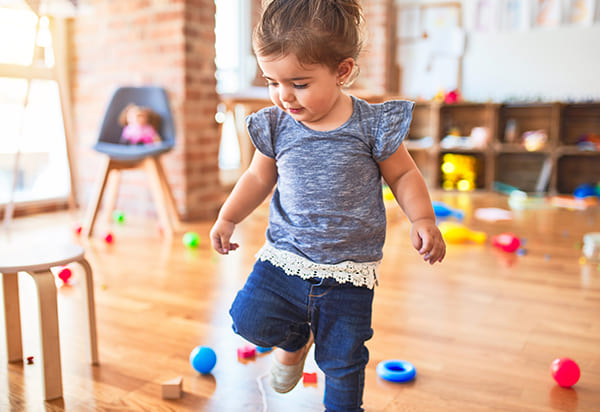 Home Connect Plus
Hama's smart home products are compatible with Bosch's Home Connect Plus app in addition to Alexa, OK Google and Siri Shortcut. Expand your smart home by various products and enjoy full functionality.
All information about Home Connect Plus from Bosch