Compact. Lightweight. Flexible. The right tripods for on-the-go!
Whether you are on holiday, travelling or visiting a city – blurry pictures are an absolute no-go. You need a tripod. But which tripod is right for travel?
A light weight, flexibility and a small size are the three elements of the perfect travel tripod.
We focussed on these three features for the Traveller tripod series. Try out our versatile new series for yourself. We have the right travel tripod for every photographer!

Extremely lightweight thanks to the aluminium design
You don't want to have to cram a heavy, bulky tripod into your bag along with the water bottles, camera, travel guide and snacks when you go on holiday? We've optimized the most important characteristic – the weight – to make our tripods perfect for travel. These tripods won't weigh you down.
Our lightest camera tripod weighs just about as much as a nearly half-empty water bottle.
Even our heaviest travel tripod doesn't weigh more than a one-and-a-half litre bottle of water.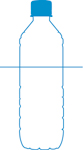 How is that possible? The tripods are made of aluminium: this light metal ensures an extremely light weight but is very sturdy – ideal for travelling.
These extra-light travel tripods spare your back and make it easier to maintain an ergonomic posture because you don't have to carry any extra loads.
You can finally bid farewell to carrying heavy loads on journeys, in the great outdoors and wherever you travel.
Small and compact – to save room for more important things on your journeys
In addition to keeping the weight as low as possible, you also have to take the size of the tripod into account. Backpacks are generally filled to the brim for travel even before you put the tripod in. Water bottles, snacks, travel guides, sunglasses, sunscreen, a raincoat and much more have to fit in your backpack. There's not much space for a big, bulky tripod.
Folded up, our travel tripods are no longer than 40 cm – that's about the size of a rolled-up sleeping bag – and have a width of 10 cm or less – smaller than an iPhone 6.

A special mechanical feature of the tripods really minimises the size: the legs of the travel tripods, which are already very compact, can simply be folded over. This also minimizes the size of the tripods by the length of the tripod head.
Thanks to their small size, these travel tripods are easy to pack and take wherever you go without taking up too much space – ideal for your next journey.
Flexible and versatile – the all-rounders of travel tripods
In addition to a small size and a light weight, there's one more important feature a travel tripod needs: flexibility and versatility.
2-in-1 function: tripod including monopod
Some of our travel tripod models are real quick-change artists. In the blink of an eye, a tripod can transform into a monopod. This is perfect if you just don't have the space for three legs or you need an extension in large crowds.
How does it work? Just take the central column out of the camera tripod and screw it onto one of the three tripod legs. Done!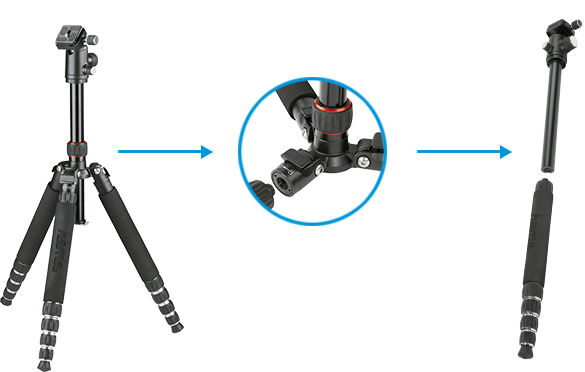 Quick-release plate – quick and easy photography with two cameras
The tripod head with a quick-release plate is very convenient, particularly if you often travel with two cameras.
The plate is simply attached to the bottom of the camera and left there. This way, you can quickly and easily attach the camera to the tripod head. This not only saves time, it also protects your camera's thread by preventing the time-consuming process of screwing the camera onto and off of the tripod.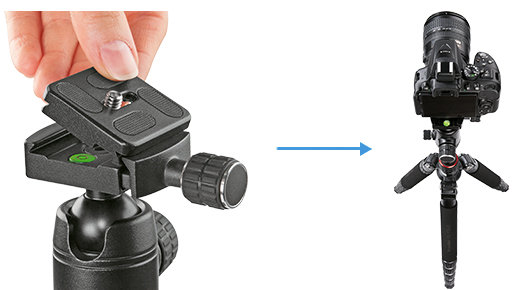 Variable height setting for high flexibility
The use of screw or quick-action clamps makes adjusting the tripods' height child's play. The tripods can be extended in up to four places and have five leg sections for optimal convenience when taking pictures.
You no longer have to manually adjust the height with annoying screw closures.
The screw or quick-action clamps also ensure that you can quickly set up or dismantle your tripod. After all, you never know when an unexpected storm might approach.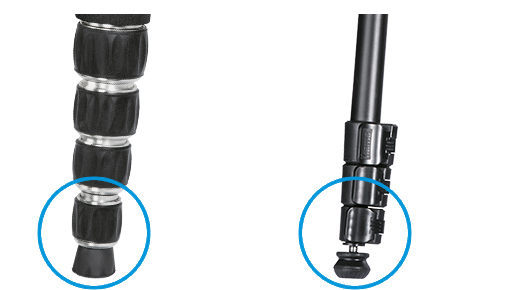 To all the Traveller tripods
Additional features – nice to know
3D panorama ballhead – for a full perspective
If you don't want to miss out on this kind of fascinating photography while on holiday, you should take closer look at the travel tripods with 3D panorama heads. They allow you to easily take panorama pictures without wasting time screwing the tripod into place. The integrated scale allows you to read the exact pivot angle.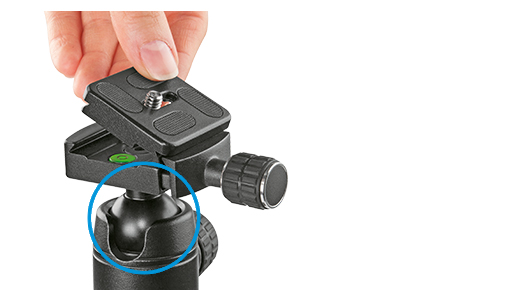 Maximum stability on every surface in any weather
Particularly when you're hiking or on uneven terrain, it's hard to ensure a stable position for your tripod. That's why our travel tripods feature rubber feet for a secure grip on wet and slippery surfaces, as well as spikes for a stable position on any type of terrain.
Because the travel tripods are so light, the features of the legs are particularly important. Rubber feet and additional spikes keep the tripods steady on their legs. As a result, the tripods can stand up to more than one gust of wind without falling over. If you want even more protection, you can use the travel tripods' integrated weight hooks. You can attach heavy objects such as small weights to these hooks for improved stability.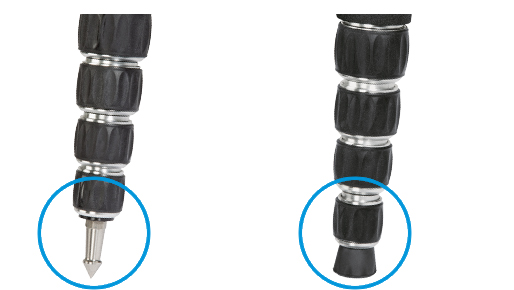 All the Traveller tripod models at a glance
The products in our Traveller series are at the vanguard of our travel tripods. They include several tripods in two versions. All the tripods offer you the best in convenience – just what a photographer needs.
All the tripods are lightweight and can be quickly and flexibly adapted to the photography situation at hand. We have something for everyone – see for yourself!
Traveller 150 Premium Duo tripod

Traveller 146 Premium Duo tripod

Traveller Premium 144 Ball tripod

Traveller Premium Mono 170
monopod

Traveller 117 Ball tripod

Traveller 163 Ball tripod

Weight
1530 g
1210 g
1210 g
465 g
820 g
1350 g
Max. height
150 cm
146 cm
144 cm
170 cm
117 cm
163 cm
Profile thickness
26 mm
23 mm
23 mm
29 mm
20 mm
23 mm
Pack size
38,5 cm
34,5 cm
34,5 cm
–
–
–
Head
3D panorama ballhead
3D panorama ballhead
3D panorama ballhead
–
3D ballhead
3D ballhead
Central column
Extendable
Can be extended in two places
Can be extended in two places
–
Can be adjusted by hand
Can be adjusted by hand
Case
Includes tripod case
Tripod legs
Can be extended in increments
Can be extended in increments
Can be extended in increments
Can be individually adjusted
Can be extended in increments
Can be extended in increments
Tripod feet
Incl. spikes
–
–
–
–
Incl. spikes
Leg sections
Five sections
(Can be extended in four places)
Five sections
(Can be extended in four places)
Five sections
(Can be extended in four places)
Five sections
(Can be extended in four places)
Four sections
(Can be extended in three places)
Four sections
(Can be extended in three places)
Macro capable
yes
yes
yes
–
yes
yes
Load capacity
5000 g
3000 g
3000 g
8000 g
4000 g
4000 g
2-in-1 monopod
yes
yes
–
–
–
–